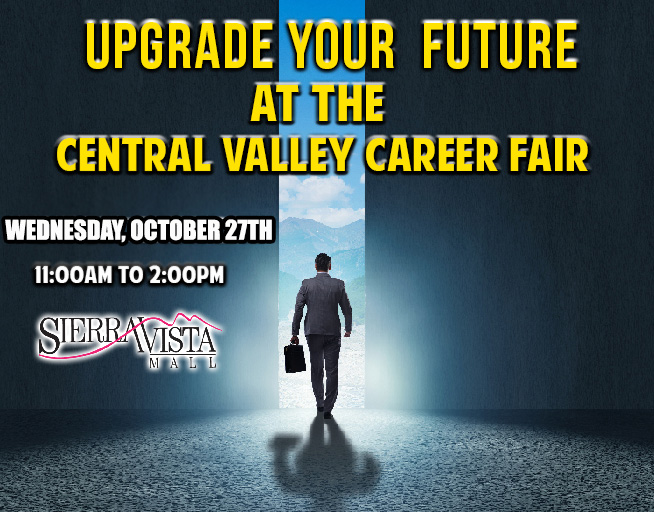 START UPDATING YOUR RESUME!
It's time to get a job … or a better job … at the 2021 Central Valley Career Fair II on Wednesday, October 27th from 11:00 AM until 2:00 PM at the Sierra Vista Mall in Clovis, CA.
Whether you are searching for your first job, your dream job, or just something to keep you busy during retirement, the 2021 Central Valley Career Fair II will get you face to face with top job makers from all over the Valley. Grab your resumé and dress for success!
Central Valley Career Fair II
Wednesday, October 27, 2021
11:00 AM to 2:00 PM
Sierra Vista Mall
Clovis, CA
The Central Valley Career Fair II is FREE and is an all ages, general admission job fair.
Participating Businesses
144th Fighter Wing Fresno ANGB
Caglia Environmental
California Department of Corrections and Rehabilitation
Chukchansi Gold Resort & Casino
Contemporary Services Corporation – CSC
D&H Distributing
DSS Private Security
FreshKO Produce
Primerica
Promesa Behavioral Health
Thomas Cuisine
Unifi Service
United States Postal Service


Do you have a company or organization that is looking to hire now or in the future? Consider having your company or organization participate by registering for a booth space in the Central Valley Career Fair II.
Email us with your contact information below and we'll let you know how you can take advantage of this great opportunity to reach our audience.
Does your company want to be a participant?
Call or Email Tim Rapp at 559.490.4134 or tim.rapp@cumulus.com for more details.